Sojourner Truth House depends on our volunteers!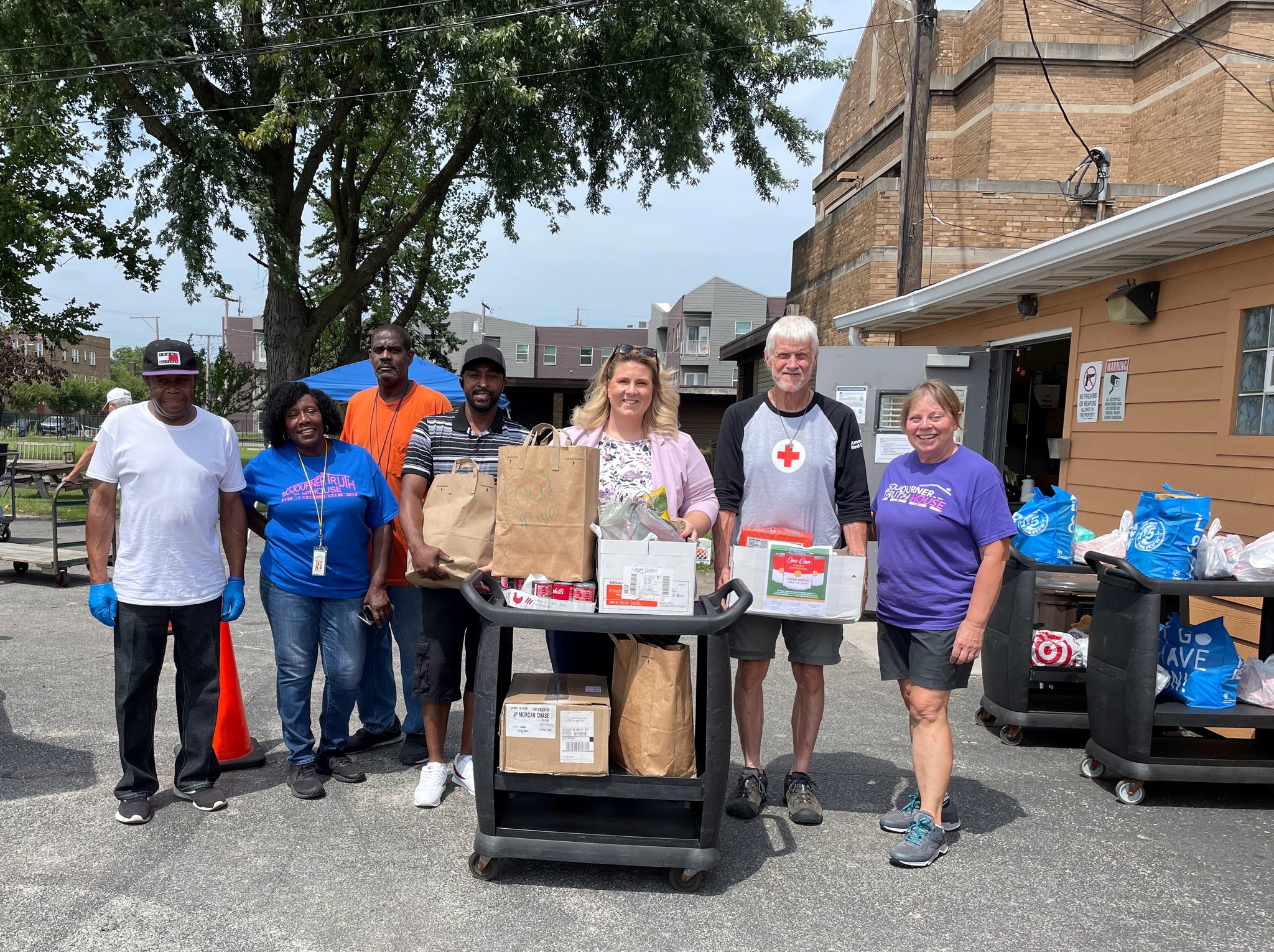 Whether you're an individual volunteer or looking to volunteer with a group, Sojourner Truth House is always in need of your support. Volunteers play a crucial role in making change for those we serve who are experiencing homelessness and hunger. We appreciate your desire to volunteer, as your contribution will greatly influence someone who is in need of your assistance.
Group Volunteers
Interested in having your group volunteer together? Sojourner Truth House is able to accommodate small to medium-sized groups of individuals on special projects. Some examples of group volunteer tasks are deep cleaning of the ministry, packing personal hygiene items for clients, sorting and bundling clothing items, or creating household item urgent need kits. Volunteers are also welcome to sign up as a group to volunteer at the annual Walk fundraiser held on the second Saturday in June of each year. Please contact Airiel Crenshaw at acrenshaw@sojournertruthhouse.org or at (219) 885-2282 so we may work together to formulate a plan that aligns the needs of our ministry with your group's desire to serve.
CURRENT VOLUNTEER OPPORTUNITIES
COMMUNITY CLIENT INTAKE
Greet and interview walk-in community clients; enter client information into the intake system and direct clients to the next steps to obtain requested items. Sort and file processed forms. Computer skills are necessary.
FOOD PANTRY
Assist with moving food to distribution areas and assemble and package food for walk-in community clients. Assist with answering the donation door; complete and distribute donor forms for food, clothes, and personal items; weigh and record donations.
CLOTHING BOUTIQUE ASSISTANT
Sort, organize, and hang incoming clothing donations. Assist with answering the donation door and completing/distributing donor forms for food, clothes, and personal items; weigh and record donations.
GARDEN ASSISTANT
Planting, weeding, or mulching the garden beds; harvest produce and weigh.
HOUSEWARE ASSISTANT
Assist with sorting and organizing houseware items such as bedding, towels, kitchenware, etc., and pack items for client move-ins.
WELCOME DESK
Answer phones and provide general information/route calls. Control front entry and direct volunteers and visitors to appropriate areas.
KITCHEN ASSISTANT
Assist with preparing nutritious meals (breakfast and lunch) for clients, operate the dishwasher, and follow kitchen policies and operating procedures. Food handling certification is required.
FACILITIES ASSISTANT
Perform minor exterior maintenance, lawn care, grounds, improvements, snow removal, and maintain cleanliness in all facility areas. Assist with client move-ins, donation pick-ups, unloading, and distributing items to appropriate departments.
OFFICE ASSISTANT
Assist with compiling and printing forms, filing, event set-up, and organizing clerical and administrative areas. Computer skills are helpful.
DATA ENTRY
Enter information into databases, record volunteer hours, and department-specific information. Assist with event mailings and acknowledgments. Computer skills are necessary. This position is suitable for someone who is interested in volunteering long-term.
SPECIAL EVENTS
Assist with compiling forms, flyers, mailings, event materials, and supplies.