When she first came to STH, staff were impressed by Charisma's style and big smile. But, as they soon discovered, her outward appearance was a mask. On the inside, this former cosmetologist—who ran her own business for five years and successfully raised three children—was trapped in a fog of trauma. The abuse that began at an early age continued for 35 years, and she desperately tried to escape by using drugs. Yet, Charisma told her case worker she believed God wanted to set her on a better path. Weary from bouncing from place to place and tired of her addictions, she was determined to make changes.
While undergoing drug treatment, Charisma participated in STH's day center program, where she attended recovery classes and received support and encouragement from other participants. With help from her case manager, she obtained permanent supportive housing assistance and moved into her own fully furnished apartment. Eventually, she achieved her most important goal: sobriety.
"I can smile bigger and brighter than ever," Charisma says. "Now, my goal is to complete a nursing program so I can help others."
To read the most recent issue of Happenings, click to download.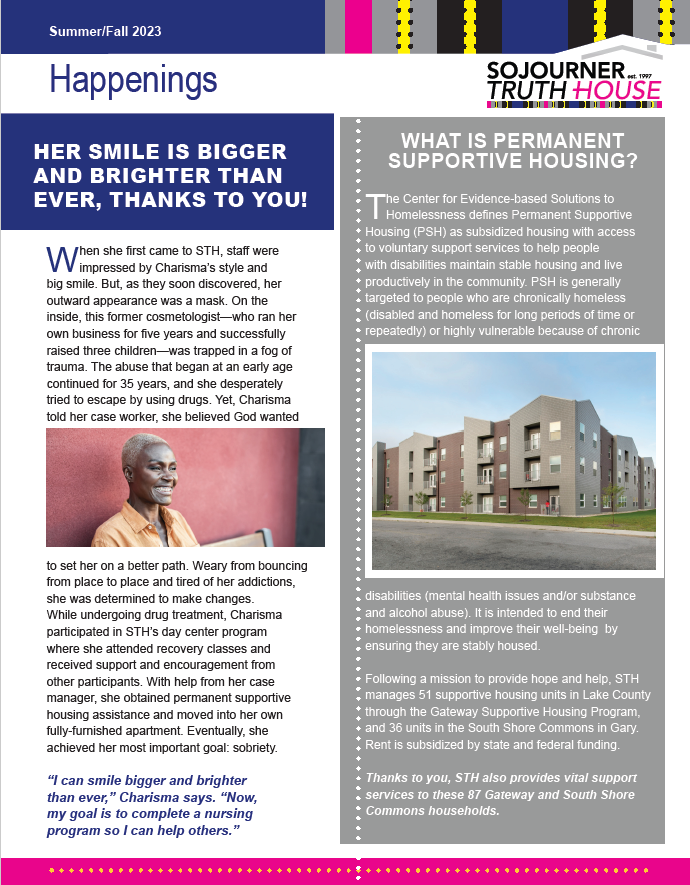 Help others like Charisma!
Charisma's story of hope and healing is inspiring. Our recovery programs and case management exist to help other women find change.
Become a monthly donor!
Give ongoing help to those who need it most.
Give a one-time gift!
Give a gift one time and make a difference.
Download Past Issues