Become a Community Ambassador for STH!
Community Ambassadors for STH is a membership-based auxiliary group to help support the mission and work of STH. Ambassadors give their time and talents to a purpose they are passionate about – helping women, children, and others in Northwest Indiana who are experiencing homelessness or struggling to make ends meet.
Any Ambassador can focus on their area of interest, whether that is one or all four areas. Men and women 18 and older are welcome to join. There is an annual $25 membership fee to become an Ambassador.
Meetings are held once a month, tentatively on the 3rd Wednesday of the month.
RSVP for the next meeting!
October 18, 3:30 p.m. @ Sojourner Truth House, 410 W. 13th Ave., Gary, IN 46407
Your annual membership supports the administrative expenses associated with the Community Ambassadors for STH program.
Please note: your membership fee is not considered a donation.
---
THE FOUR CORE AREAS OF COMMUNITY AMBASSADORS
ADVOCACY
Ambassadors can influence positive change and support relevant legislation or policies by collaborating with local officials and policymakers. Ambassadors can write letters or call elected representatives to express concerns, support specific initiatives, or attend conferences to advocate for the rights and needs of those served by Sojourner Truth House. 
AWARENESS
Some ways Ambassadors can be involved in awareness:
Representing the organization at community events and meetings.
Organizing and participating in awareness campaigns or events to educate the community about the mission, services, and impact of STH. 
Conducting or helping facilitate presentations or workshops in schools, community centers, or other venues to promote understanding and empathy.
FUNDRAISING
As a 501(c)(3) nonprofit organization, Sojourner Truth House relies on donations. Ambassadors can create unique experiences and opportunities – creating and hosting events, collecting items for our pantry, hosting a food drive, and so much more – to help STH raise funds. Our goal is to keep the mission strong for years to come.
VOLUNTEERING
Volunteers are an integral part of the support system of STH. Volunteering helps create a safe and nurturing environment for those served by STH. Ambassadors can volunteer by working in our garden or pantry, pick up pantry donations, and more.
---
2023 COMMUNITY AMBASSADOR PROJECTS
VOLUNTEERING
Ambassador and long-time STH volunteer Sharon Kenning started 5 Loaves, 2 Fish. The idea came from Sharon working in our Food Pantry regularly and seeing the immediate need for food to be coming into the pantry once a week. She created the initiative to encourage businesses, clubs, churches, etc. to hold one yearly food drive. Since starting it, our food pantry has seen food regularly coming in and our community coming together.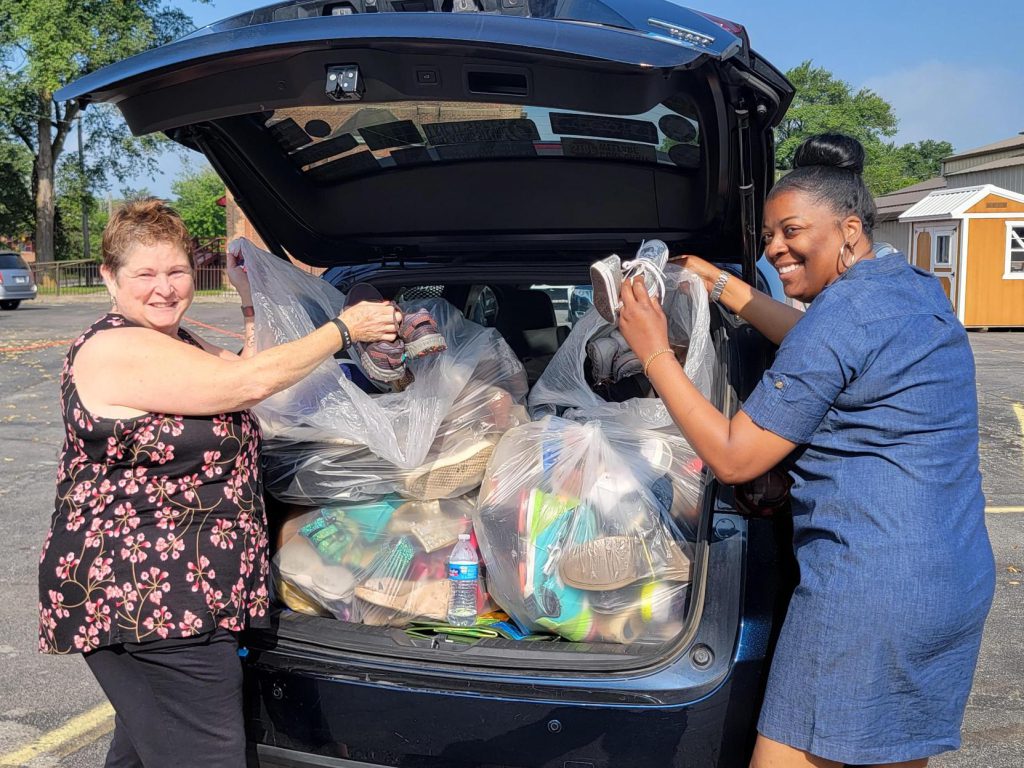 FUNDRAISING
Our 2023 shoe drive was led by Ambassador Denise Carney. With over 25 locations collecting over 13,000 shoes, Denise sorted through each shoe herself. She bound pairs, tossed shoes in terrible condition, and packed each and every bag. We are currently waiting to hear the total raised from our Shoe Drive!