SHOE DRIVE FUNDRAISER
July 1 – August 31
Donate Your Shoes!
For every pound of shoes collected, Sojourner Truth House will receive $0.40 cents, which will contribute to our mission and programs.
Shoes must be in a pair and be new or gently used.
The donated shoes will be sent to developing countries, where they will help people create micro-enterprises and improve their livelihoods.
Every pair of shoes can make a significant impact. By supporting our shoe drive fundraiser, you'll empower individuals in developing countries to start small businesses and lift themselves out of poverty.
Want to collect shoes at a business, church, school, etc.? Download our flyer!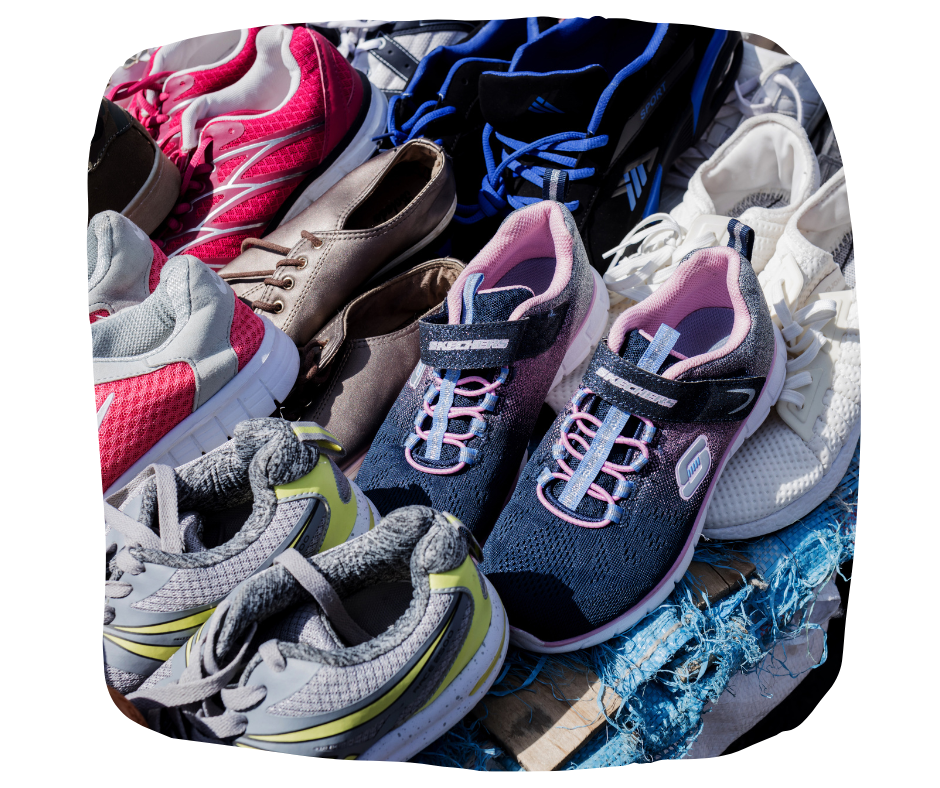 ---
What is Micro-Enterprise?
Micro-enterprises are small businesses, generally owned and operated by families of 1-2 people. Because of systemic poverty in many developing countries around the world, working-age adults have to create their own economic opportunities. These micro-enterprises could be as small as a stall or shack or a brick-and-mortar shop. When you do a shoe drive fundraiser, you help provide the inventory for people worldwide. They sell the shoes you gather in their communities, which promotes commerce opportunities and leads to economic sustainability.
---
Find Your Nearest Drop-Off Location
Sojourner Truth House
410 W. 13th Avenue
Gary, IN 46407
Centier Bank
4883 Broadway
Gary, IN 46409
First Financial Bank
5974 W Ridge Rd
Gary, IN 46408
Holy Spirit Parish
7667 E. 109th Avenue
Crown Point, IN 46307
Impact Christian Church
7071 Broadway
Merrillville, IN 46410
Marquette Park United Methodist Church
215 N Grand Blvd
Gary, IN 46403
Marram Health Center
3229 Broadway
Gary, IN 46409
Nativity of Our Savior
2949 Willowcreek Rd
Portage, IN 46368
Poor Handmaids of Jesus Christ – Hobart Office
1419 S Lake Park Avenue
Hobart, IN 46342
Queen of All Saints
606 S. Woodland Rd
Michigan City, IN 46360
St. Adalbert Catholic Church
121st St. & Indianapolis Blvd
Whiting, IN 46394
St. John the Baptist Catholic Church
1849 Lincoln Ave & 119th St.
Whiting, IN 46394
St. Mary's Church
402 IN-8
Kouts, IN 46347
Teachers Credit Union
3730 Grant St
Gary, IN 46408
The Arc of Northwest Indiana – Highland
9600 Kennedy Avenue
Highland, IN 46322
The Arc of Northwest Indiana – Hobart
2395 Old Ridge Rd
Hobart, IN 46342
The Center at Donaldson
9601 Union Rd
Plymouth, IN 46563
USW Local 6787 Union Hall
1100 Max Mochal Hwy
Chesterton, IN 46304
USW Women Of Steel Coordinator, District 7
1221 E Ridge Rd
Gary, IN 46409